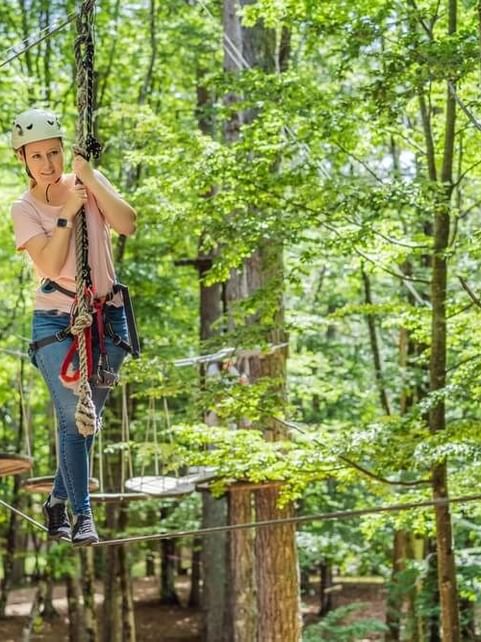 Soar through the Sky Ziplining in the Poconos
Published On 'June 02
The Poconos Mountains are known for their breathtaking scenery, and there are endless ways to embrace Mother Nature's beauty when staying at one of the Cove Pocono Resorts. Our three adult-only resorts are ideal destinations for couples looking to enjoy an unforgettable getaway that'll leave them with lifelong memories. A great way to explore the nature that makes this region picturesque is going ziplining in the Poconos.
Where to Go Flying above the Trees
There are several places throughout the Poconos that offer incredible Pennsylvania ziplining opportunities. No matter which of our three properties you're staying at, there's sure to be a nearby attraction that can meet your high-flying needs.
Work your way over the Treetop Adventure Course at Skytop Adventure Center. Measuring over 3,000 feet, the course is made up of 17 different zip lines and takes roughly four hours to complete.

Book your time at Pocono TreeVentures online to secure your spot on the aerial ropes adventure course. With over 90 elements and five courses, there is a path that fits your skill level. This is also home to Pocono Zip Racer.

Gorilla Grove Treetop Adventures offers two different experiences. The ropes course includes everything from kid-friendly options to extremely difficult courses. There are also the quad racing zip lines, which allow you to enjoy a bit of friendly competition.
Check Out the On-Site Fun at Our Poconos Resorts
While there are countless things to do when vacationing in the Poconos, including zipline and whitewater rafting, there is just as much fun to be had right at your resort. This is especially true for those staying with Cove Pocono Resorts. Our three couples-only resorts are filled with numerous things to do that'll appeal to everyone.

Get the most out of your stay by becoming part of our Key Around Club. This gives you access to recreational activities at Paradise Stream, Pocono Palace, and Cove Haven. To learn more about this membership or the accommodations at our resorts, call 800-233-4141.