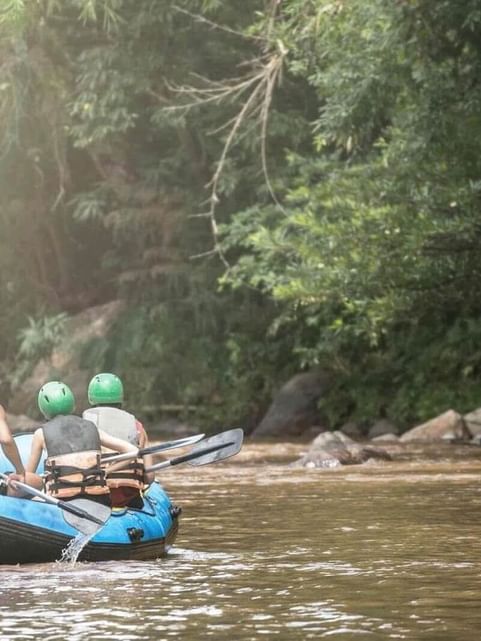 Get Out on the Water Rafting in the Poconos
Published On 'June 06
Tucked away in the Pocono Mountains are three incredible couples-only resorts that make up the Cove Pocono Resorts family. This group of romantic accommodations is ideal for any couple looking to reconnect away from life's distractions. Not only will you have a peaceful place to call home, but you'll be surrounded by endless adventure. If you're looking to add a bit of thrill to your next getaway, go water rafting down a Poconos river.
How to Get the Most Out of Your Rafting Experience
At Cove Pocono, we work to help you have the best getaway possible, and that includes offering incredible deals. One such deal is Get Wet & Wild. Booking this package, offered seasonally, makes planning your Poconos whitewater rafting outing a breeze.
As part of the package, you will go on an eight-mile run down the Lehigh River on Class I and II waters. The three to four-hour excursion surrounds you with stunning scenery. To reserve your excursion, you will need to contact Pocono Whitewater at 800-944-8392. You will need to take the voucher provided at check-in with you on your trip.
In addition to the tour, the deal includes an all-you-can-eat riverside BBQ lunch, complete with hotdogs, chips, potato salad, fruit, and more. Lunch is provided between Memorial Day and Labor Day.
What to Wear on Your Outing
While the knowledgeable guides at Pocono Whitewater will teach you the basics of rafting, another key thing to keep in mind is your outfit. What you wear can make your experience even more enjoyable or leave you annoyed. As this is a watersport, you'll want to dress for the water temperature, not necessarily the air temperature. You will also want to dress in layers and opt for clothes made of quick-drying material over cotton.
Reserve Your Unforgettable Poconos Getaway Today
If you're looking for your next trip for two, look no further than Cove Pocono Resorts. Whether staying at Cove Haven, Paradise Stream, or Pocono Palace, everything you need for a memorable Poconos trip is right at your fingertips, including thrilling water rafting and sunrise hikes.
Most importantly, you'll have a romantic space to call home. All our properties feature a range of accommodation options, which means you can find the one that fits your idea of the perfect home away from home. Call 800-233-4141 to learn more about the rafting package before booking your stay online.