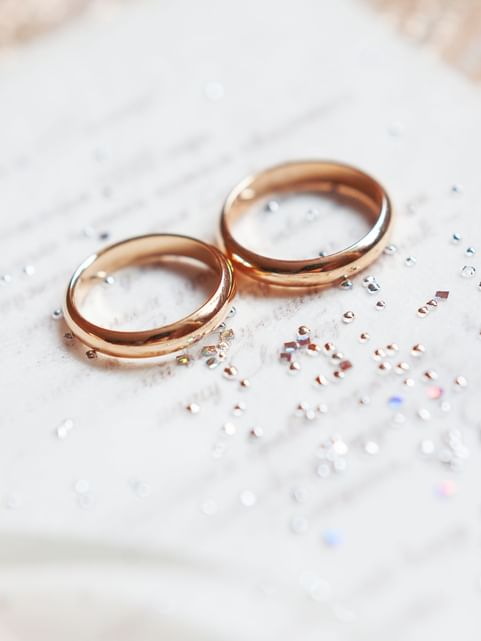 The 10 Best Vow Renewal Gifts
Published On 'March 31
THE 10 BEST VOW RENEWAL GIFTS
More and more couples are renewing their vows to reaffirm their love and commitment to one another. This romantic ceremony calls for a thoughtful gift. Not sure where to start? Don't worry; the experts at Cove Haven Entertainment Resorts have you covered. We've hosted countless vow renewals at our couples resorts in the Poconos.
Having been around so many ceremonies, we know a thing or two about vow renewal gifts. Whether you're looking for something sentimental and romantic or exciting or fun, our vow renewal gift guide has what you seek.
5 VOW RENEWAL GIFTS FOR HIM
Are you looking for something extra special for your husband? We have five excellent vow renewal gift suggestions that will rock his world.
Custom Golf Bag: If your sweetheart is a golfer, make sure their golf outings are always super special with a custom embroidered golf bag. Customize the bag to include their name, your wedding or vow renewal date, or anything else meaningful to them. This gift is fun, functional, and sentimental all at the same time.
New Watch: Keep your partner on schedule, and remind him that your time together is treasured with a watch. For an extra romantic touch, order a matching couples watch set to ensure you are always thinking of your precious time spent together.
A Vinyl Record of His Favorite Album: In recent years, vinyl records have come back in a major way. Hit rewind and play into nostalgia by giving him a vinyl of his favorite album or a record that will make him think of you. The Sound of Vinyl has a huge selection of vinyl records to choose from.
Monthly Beer Subscription: For the craft beer lover, sign up for a monthly beer subscription service. Every month, a new selection of craft brews will be sent to your home for your husband to enjoy. Tasty craft beer without leaving the house? He'll love it.
Truth or Dare for Couples: You don't play games with his heart, so play games in the bedroom instead. Spice things up with a sexy and fun game of truth or dare. Playing this exciting and naughty game is a great way to celebrate your forever love.
5 VOW RENEWAL GIFTS FOR HER
Don't worry; we also have recommendations on vow renewal gifts for her. We'll cover all bases to ensure you find something she'll love.
Custom Ring Dish: There are times when she can't wear a wedding band. In that case, give her a cute and elegant place to store her ring, a custom ring dish. Customize your ring holder with your initials, wedding or vow renewal date, or other information that will remind her of your love.
Photo Album: Remind her of all of the fantastic memories you've made together with a photo album of the two of you. Creating a photo album is a romantic and sentimental way to show you value your time together. Don't fill it all up; leave some room for all of your future adventures as well.
Perfume: If your wife is into fragrances, dazzle her with her favorite perfume, or switch things up with a luxury offering she hasn't tried before. Fragrances are emotive; every time she puts on the scent, she'll think of what a loving and thoughtful partner she has.
Date Box Subscription: You don't need to go out for an amazing date; a date box subscription will send you everything you need for a special night at home. Once a month, you'll receive a box chock full of exciting activities, tasty snacks, and more that will help you have an unforgettable date.
Romantic Vacation: Nothing is more exciting than a spontaneous and romantic getaway. She'll love getting away from the stresses of everyday life with a couples trip. If you're looking for an adults-only resort perfect for spending quality time, our three resorts in the Pocono Mountains would be the perfect places to stay. We'd also love to host your vow renewal ceremony. For more information or to book your stay with us, please give us a call at 888-963-3048.