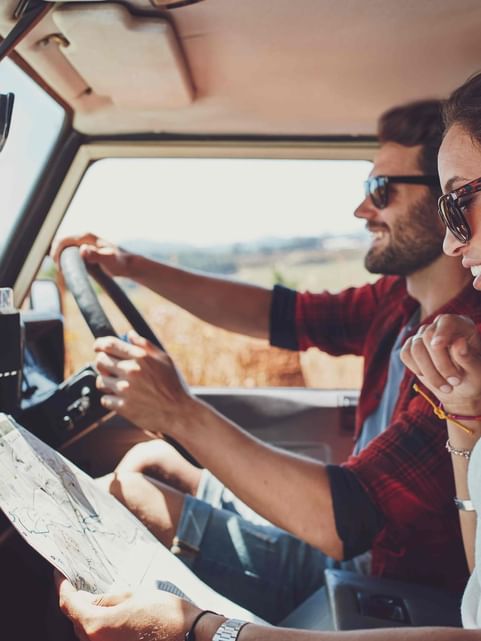 Three Fun Travel Games for Adults
Published On 'August 09
THREE FUN TRAVEL GAMES FOR ADULTS
When you're on the road heading to your vacation destination, the drive can get a bit stale. You can add some excitement to your ride by playing travel games. Travel games aren't just for kids, there are some great travel games for adults that are sure to provide you with hours of entertainment.
THE BEST TRAVEL GAMES FOR ADULTS
Want to liven up your trip with some travel games for adults? The team at Cove Poconos Resorts has you covered! Continue reading to learn about some new games you can play with your partner while traveling.
THE LICENSE PLATE GAME
Whether you're an adult or a child, the license plate game is the ultimate road trip game. If you're unfamiliar with the game, players keep their eyes peeled for license plates from as many locations as they can. For a fun, adult twist on the game, award extra points for spotting a raunchy license plate; these are rare, but they're out there. Best of all, this game is free to play.
CONVERSATION CARDS
Need something to keep the conversation going? Conversation cards can do just that! There are many games available with question prompts; use those prompts to spark an interesting conversation with your partner. You're sure to learn something new about your loved one while playing this game. For some added excitement, play with adult-orientated cards, which are sure to add some sexual tension.
CARPOOL KARAOKE
Unleash your inner pop star with a game of carpool karaoke. You and your partner will have a blast as you duet to your favorite songs. For added fun, try the Carpool Karaoke The Mic 2.0. This microphone connects to your car's speakers using Bluetooth and even features vocal effects for you to enjoy.
TRIVIA
Test your knowledge and compete with your partner in a thrilling game of trivia. Trivia is among the best travel games for adults because only one person needs to hold onto the cards, so the other can focus on driving. This timeless game is sure to be a hit on your upcoming road trip. For even more fun, try trivia about the place you're going.
ENJOY AN ADULTS-ONLY VACATION TO THE POCONOS
Reconnect with your partner in the ultimate romantic destination – the Pocono Mountains. Cove Pocono Resorts has three resorts for couples in the Poconos, and we would love to host your next getaway. If you think these travel games for adults are fun, just wait until you see what we have in store for you at our adults-only resorts in the Poconos. To book your stay, please check availability online.