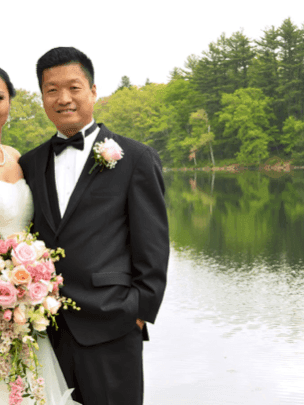 Free Elopement Packages in PA? Only at Cove Haven
Published On 'December 01
Every year, we welcome thousands of couples from the New York City area who need a brief escape from busy streets, stressful workplaces, and hectic daily schedules. But we're so much more than just the top-rated couples retreat in the Pocono Mountains. We've also evolved into one of the most enticing intimate wedding venues on the East Coast as our scenic, playful respite is for adults only. As we head into 2020, more and more couples are looking for an intimate alternative to a sizable, expensive wedding in the city, which is where we come into the frame. Reminder: Cove Haven offers free wedding elopement packages when you book four nights, a deal you won't find anywhere else!
ELOPEMENT PACKAGES IN PA
We couldn't think of a more beautiful, secluded, or tantalizing elopement destination than Cove Haven. With three unique, alluring resorts to choose from, you're bound to find a location that perfectly suits your style and budget. Cove Haven is the only resort to offer free elopement packages in PA. It's simple: all you have to do is book a four-night stay in one of our glamorous suites, and we'll help piece together an elopement that outdoes all others. Here's what included in the package (plus all of the other all-inclusive perks):
Dedicated wedding concierge/planner
Ceremony performed by an officiant
Sparkling champagne
Commemorative champagne glasses
Two-tier wedding cake
Thirty-minute photo session
Wedding photo album
Eight mounted photographs

THE CHANGING SEASONS
You might think that the heart of summer is our most popular season for elopements (and weddings), but most couples choose autumn or winter's peak. There's just something magical about reciting heartfelt vows underneath colorful, falling leaves or snow-capped trees. For all intents and purposes, no ceremony locale is off limits here at Cove Haven. Some couples prefer to stand beside vast Lake Wallenpaupack while others enjoy the comfort and luxury of our many indoor meeting spaces. To inquire about potential ceremony locations and to schedule a visit, please fill out this form. Intimate weddings, because of their small size, are fully customizable, which is just one of the many reasons that we offer free elopement packages in PA.
START THE HONEYMOON
There are countless reasons to elope rather than marry amid hundreds of guests: it's intimate, authentic, less expensive, and certainly less dramatic. It's all about the couple. Elopements value the experience over everything else. And elopements, whether meticulously planned or spontaneous, allow couples to instantly start their honeymoon. With a four-night stay here at Cove Pocono Resorts, you'll get to experience the Pocono Mountains' very best, including live entertainment, jaw-dropping natural beauty, alone time inside a seductive suite, and dozens of all-inclusive perks. Not only can you enjoy complimentary fine dining, nightly performances, and countless on-site activities, but you'll also be minutes from craft breweries, horseback riding, golf courses, and so much more! Perhaps your intimate fall wedding needs a bucket list? If you're interested in learning more about our free elopement packages in PA, please give us a call today at 1-800-432-9932.